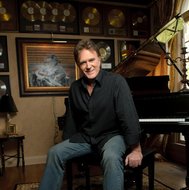 TG Sheppard
October 21, 2012 @ 8 PM EST LIVE from TG's home in Nashville! 10 dollars to view & interact for this unique 30 minute show!
BUY Tickets
Show Description:
Join Country Music Legend,
TG Sheppard
, as he talks about his long time friendship with The King of Rock and Roll,
Elvis Presley
. TG will sing a few
Elvis
songs and allow *YOU* the fans to ask questions you have always wanted to know about
Elvis
but never had the opportunity to ask. This will be a live show from TG's home. *A portion of the proceeds will go to one of Elvis' favorite charities, St. Jude's Children's Hospital.* This show is 100 notes($10.00)
The highest tipper will receive 2 Free passes to Elvis's Home -
GRACELAND!!!
(good only for 1 year after Oct. 21, 2012 travel to and from Graceland not included) other prizes include and Autographed CDs and 8x10s. You may leave a tip when you purchase your ticket or tip during the live show.
USERS MUSIC HAVE GOOGLE CHROME. MAKE SURE TO BUY YOUR TICKETS/NOTES IN ENOUGH TIME TO VIEW THE SHOW. TICKETS/NOTES CAN BE BOUGHT THROUGH PAYPAL OR CREDIT CARD AS YOU ENTER STAGEIT SITE. QUESTIONS WILL BE ASKED VIA THE COMPUTER AS IN MESSAGE BOARD FORMAT.